Bobby Radford sings
Happy Anniversary "Whitey", got ya on my mind,Happy Anniversary "Whitey", listening to ya, all the time. 65 years ago, you became a part of radio,Signing on as WYTI.Playing country music, bluegrass and gospel,With news, weather, and sports, right on time.As the voice of Franklin County, you never let us down,Keeping the airways nice and clean.With some of the best DJ's and employees,That Franklin County has ever seen.So take time to celebrate, and let the folks participate,In keeping the station alive.Then when you turn 100, the folks will remember,Why all of us listeners, had a great time.
Thanks Bill
His name was Bill, and was known county wide.
People loved hearing his voice, on WYTI.
Music was a big part of his journey in life,
He could make people smile, sing and dance,
morning, noon and night.
Now his is performing, in his new Heavenly home,
I'm sure his mansion, is right next to the throne.
His legacy will live on, so I'll end with this,
Thanks for the memories, Bill, yu surely will be missed.
Poem by Bobby Radford, 11/04/20
65th and thank you Susan!
Frank Gerard
65th Annniversary
That makes me so happy, Susan. I know you know this, but I like saying it again….
Your dad and WYTI gave me my start….he believed in my abilities when I was a kid and had to work my butt off to get anystation owner to listen to my stuff. Your dad also didn't make me feel like a terrible person when I left WYTI….many employersdo when an employee quits….they take it personally. Your dad rose above it and said to me "Son, you are going places…stay in touch." I always remember that, and used it as an example in my newspapers anytime a young person quit. I tried to never take it personally.
And then later in my career when I decided to try and start up a small voiceover business 5 years or so ago, YOU Susan were one of the first ones wholet me record some spots for you. It meant a lot, and really helped give me my footing to grow my business. And I cannot tellme how much it meant to me that I was able to see your dad one more time, and how thankful I am that you allowed me tovisit him and your mom in their Rocky Mount home back in 2019. I was so happy to be able to personally thank your dad for all he didto help me form my career at a very young age.
All that just to say that it warms my heart to know that people liked the 65th anniversary jingles!
Thank you for allowing me to do them.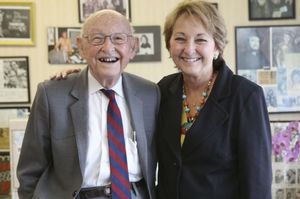 Local radio station celebrates 60 years